Song played is "Celebrations"
Our interactive 'Singing Balloons' are a fun way to express your special wishes to your family and friends.
When your recipient receives the 'Singing Balloon' (arrives in 4 to 7 days - USPS delivery courier)  they simply follow the instructions to unpack the balloon from the shipping package, they must blow up the 'Singing Balloon' (and additional latex balloons included), tie our ribbons and bows to the balloon and 'tap the bottom of the balloon' for a special musical message! Our 'Singing Balloons' stay inflated for months!
Shipped Uninflated / Arrive in 4-7 days

SB-GRAD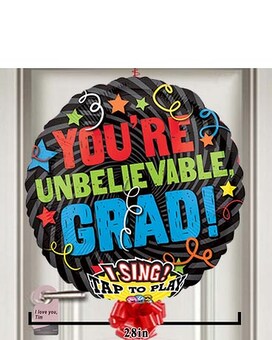 Shipped Uninflated / Arrive in 4-7 days - $19.95